Today I'm taking a break from my usual photo-session blogging to share something more personal about myself... something that's always weighing on my mind this time every year. And that is my sister Carrie.
I have to start by saying everything I loved (and still love) about her- because I truly believe that those who didn't know her, missed out on an awesome person. I think if you asked anyone who knew her, to describe her in one word, it would be FUN. She was just a fun person in every way. She and I are less than two years apart in age, and surrounded by four brothers close in age to us, so naturally we spent a lot of time together growing up.
I have fond memories from our childhood, way back when we shared a bedroom growing up and stayed up late talking and laughing. I see my two little girls interact like that now and it is such a sweet reminder of of Carrie and I. :) I loved all of our little adventures over the years, and there were many-- Ordering pizza to be delivered to our treehouse in the front yard when we were little kids (yes, it really happened and on more than one occasion! :). Playing basketball and enjoying all of the fun and crazy times with the cross country team in high school. Cruising around in the high school days in her rattly old '80's Subaru with the music blasting and the windows rolled down, with not a care in the world- I'm sure we had way more people packed into the car than the legal limit. Serving up burgers, burritos, chicken wings, and more together at a variety of fast food restaurants (gotta love it!). Pulling all-nighters during the college days doing absolutely nothing. Building a giant igloo in the middle of the night when a big snowstorm hit. Skydiving. Snowboarding. Spontaneous trips to wherever- Deer Creek Reservoir, hiking adventures, mountain biking in the rain, Moab, camping, and so much more. Many trips to rock concerts (several of those being Dave Matthews Band... part of why I love that band so much now are because of my memories of seeing them with Carrie!). Truly, if there was any fun to be had, you better believe she was there. I could write ten pages about all of the funny stories and memories I have of her.
More importantly than the things we did together, were the memories of the type of person she was. She was literally a friend (and a best friend at that) to all. I don't even think I could count how many people truly considered her to be their best friend. That's saying something. She was the kind of person who sought out those who needed a friend, and would throw her arm around them and bring them in. She had a beautiful smile and a beautiful spirit. Her influence was widespread and likely far moreso than she ever realized.
This photo of her from our skydiving trip way back in the day pretty much sums her up: Fun loving and adventurous. :) She was so proud of this photo at the time, and had it printed huge and stuck it right on the dining room wall of our old college house, along with all of the ski resort maps and a giant Colorado flag, of course. I loved her fun style and it was infused in everything she did and everywhere she went.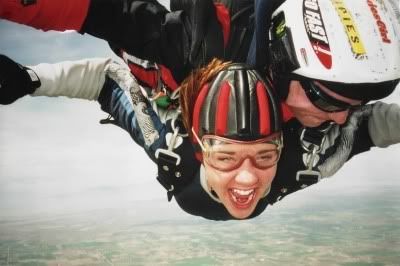 On this sunny June day exactly seven years ago, our world was completely shattered with the news that she was in a devastating car accident. In a matter of moments, her life on earth ended. Another sister of mine and one of my cousins were also in the car, and were badly injured but their lives were spared.
There are no words to describe how that felt. And I can recount every detail of how I felt, what I was doing, and the sheer level of shock that came over me when I got that phone call from my mom. It felt like a sledgehammer hit my chest. The world stopped, time stopped, everything stopped. The following days, weeks, and months often felt like a blur. Even seven years later, I sometimes still can't even believe it really happened. Denial, perhaps. A protective coping mechanism. But what a long seven years it has been without seeing her beautiful smile and hearing her voice.
Why would I share this here? For one, it was one of the hugest reasons why I got into photography. I have to say, I don't have nearly enough images of Carrie and it makes me so sad to realize that I never thought to stop and take a picture of this or that adventure together. I wish I could say I had an awesome photo of us two together, and I'm not even sure I can say that. But every single image I do have of her, and of our family, is absolutely priceless. Any tiny video clip of her is also equally priceless. I never want to forget what her voice sounded like, or what her beautiful smile looked like.
We actually got family portraits taken just
days
prior to the accident, since we were together for a family reunion. I have to say, that no matter how old or outdated this picture becomes, it will ALWAYS be a fixture in my home because it is the last complete photo of myself and my 11 siblings. Absolutely priceless. And I have to say that now I pretty much bring my camera everywhere I go, and take pictures everywhere I go, because I have since realized how valuable photos are to me.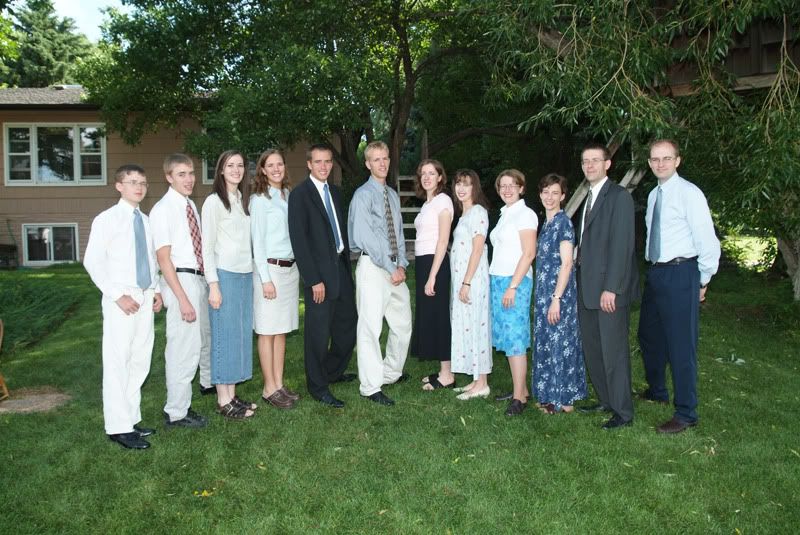 I have to share this other photo from that day, that is just SO Carrie and it is one of my favorite images ever. She and my brother I think were having a friendly disagreement about getting to sit on the only chair out there. Her big laughing smile is the personality I remember so well.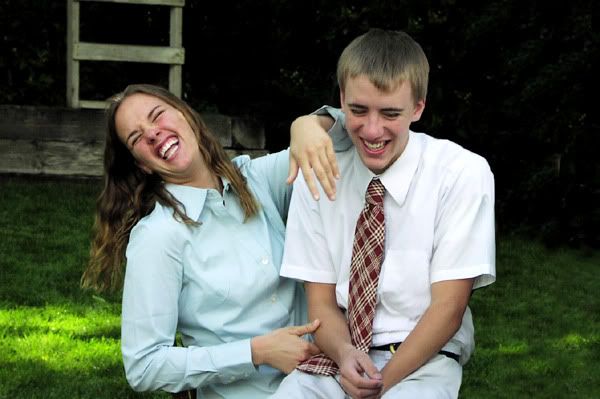 I guess the other reason why I write this, is because I think we all need reminders every now and then about how precious and fragile life is. That's the bottom line. We never know what twists and turns life is going to throw at us, and I hope to be able to look back on my life and know that I took advantage of every opportunity to enjoy my family and friends.... that I took every opportunity to really LIVE and experience life. I don't think I will look back and wish I worked a little more, or did all of those mundane things that are of course necessary. I think I will remember all of the relationships, the things I did with the people I loved, the kind of wife and mother and friend I tried to be.
With that, I will end this post. I think I need the reminder (and hopefully others out there do too), to seize the day. Stop and take a second to tell the people in your life that you love them. Give a few more hugs. It will be worth it.